Regular price
Sale price
$17.00 USD
Unit price
per
Sale
Sold out
Our Baby & Sensitive Skin Balm is 87% organic!  It is formulated with moisturizing organic virgin coconut oil, soothing organic chamomile infused olive oil and enriched with organic jojoba oil and organic shea butter to nurture and soothe delicate skin. 

Watch the video about Baby & Sensitive Skin Balm with captions.
Gently softens, soothes and moisturizes the most sensitive skin
Helps soothe itching and irritation associated with dry skin patches, diaper rash and cradle cap
Nourishes adult skin suffering from skin conditions
Perfect for use on chapped cheeks from winter cold or summer sun
Contains no added fragrances
Made only with non-toxic ingredients 
Great for children of all ages and adults with sensitive skin
3.5 oz jar made of single wall PCR (post consumer recycled) plastic with metal lid.
Use within 18 months of purchase.
Key Ingredients

Organic Chamomile: Soothing, calming and anti-inflammatory

Organic Shea Butter: Rich in vitamin E; softens, protects and nourishes. Our USDA certified organic shea butter is from West Africa and has a natural shea nut smell. It has not been deodorized by chemical solvents. A proprietary process has been applied to remove the naturally occurring latex.

Organic Coconut oil: Softening and moisturizing; high in lauric acid
Who Is It For

Suitable for any sensitive skin.
May be used on newborns.
Especially helpful for anyone with sensitivity to fragrance/essential oils and multiple chemical sensitivity.
How To Use

Using clean hands, scoop a small amount onto finger and apply to skin as needed. Keep jar capped when not in use.
View Full Ingredients List

Olea Europaea (Olive) Oil* infused with Matricaria Recutita (Chamomile) Flower*, Butyrospermum Parkii (Shea Butter)*, Simmondsia Chinensis (Jojoba) Seed Oil*, Cera Alba (Beeswax), Cocos Nucifera (Coconut) Oil *.
* organic ingredient
Share
View full details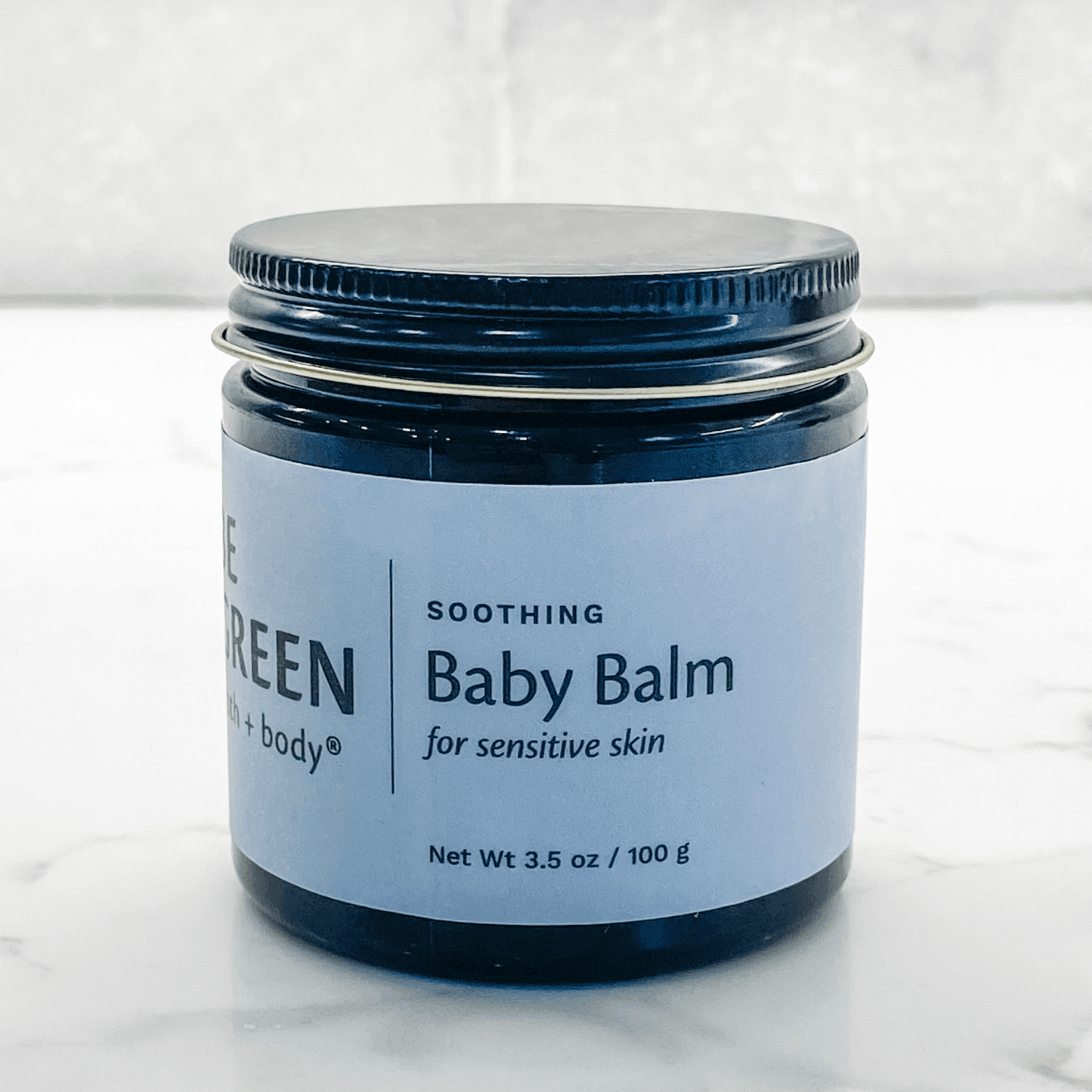 Great tool in the toolbox for eczema care
I am a mid-20s adult who has had eczema her whole life. I waited to write this review because I really wanted to give my skin time with this product, especially across seasons. Ultimately, I think it is a great addition to your toolbox of lotions/creams/salves you might use for daily eczema care. It nicely melts into dry skin - on hot summer days I used less, in the winter I used much more. I do not find it useful during flareups (hot, itchy, red, burning skin), but I find it VERY useful in flare-up recovery. Again, I'm very happy to have found a product that I feel safe using on dry or broken skin and I hope others find it helpful.
Thank you for your helpful review! I'm happy that it has helped with flare-up recovery and you appreciate the non-toxic ingredients.
Wonderful product!
I've been having issues with really dry skin lately and this has been a lifesaver! Love it!
Thank you for your review! We're so glad our balm has been helping you out with really dry skin.
Helped with baby's eczema
My son has very sensitive skin and he hates the feel of lotion. He doesn't mind the feel of the balm and it's helped immensely. The dry patches of skin are clearing up after only a few days of using the balm. I am not in love with the smell but I'll take a non-screaming toddler any day!
How wonderful to read that the balm has helped your son's skin! The smell comes from the actual smell of organic, unrefined shea butter. Unrefined shea butter has a distinct smell but retains all of its benefits because it is not processed of heated. I'm so happy you are able to deal with it. Thank you for your review.
Really good!
I got this balm after a long wait, some delivery issue but I have to say wait was worth it. Really like it for the dry skin and feel better about putting skincare that can be trusted.
I do appreciate your patience! It should never take weeks for a package to be received. I'm so sorry it got hung up in the USPS system. I'm glad you found it worth the wait! I'm grateful for your review and reorder. Thank you!