Regular price
Sale price
$18.00 USD
Unit price
per
Sale
Sold out
Our Baby Powder is formulated with mild non-toxic ingredients for delicate and sensitive skin.  The finely milled powders and soothing botanicals will keep your little one fresh and dry.  This safe and effective powder can be used after baths and during diaper changes to freshen up skin. 

It is great for areas that accumulate moisture and helps keep skin fresh and dry.  Our Baby Powder is not just for babies!  It is perfect for any age and can be used on armpits, on feet, and anywhere you need to absorb moisture. 
Helps prevent and soothe chafing
Soothe prickly heat and skin irritation 
Contains arrowroot powder and non-GMO cornstarch to absorb moisture
Talc free, gluten free, synthetic free
Essential oil free
3.5 oz powder shaker bottle or 3.5 oz compostable pouch refill
Use within 18 months of purchase
Refills now available!   Refill our old plastic shaker bottle or our newer aluminum bottle.  Save money and save the environment by reusing your powder shaker bottle!  The refill is sold in a home compostable pouch!  To refill, see Directions tab below.  To order, click on "Style" above and select "Refill".  Watch the video of how to refill your aluminum bottle with captions.
Key Ingredients

Arrowroot: Helps absorb moisture while keeping skin soft and soothed

Cornstarch: Soothing and moisture absorbing; lacks any scent

Organic Chamomile: Soothing, calming and anti-inflammatory
Who Is It For

For anyone who wants to feel fresh and dry.
Perfect to newborns and babies to absorb moisture and keep skin dry.
How To Use

Twist cap to open. Sprinkle on skin as needed to freshen, keep cool, and absorb moisture.

To refill your bottle, use a dull knife to pop off the top of the plastic shakers. For the aluminum shakers, use your thumbs and push up the metal cap. You may need to push up and turn the bottle and push up again. Use a funnel or snip the refill packet corner and carefully pour contents into bottle.
View Full Ingredients List

Maranta Arundinacea (Arrowroot) Powder, Zea Mays (Corn) Starch, Lavandula Angustifolia (Lavender) Flower Powder*, Matricaria Recutita (Chamomile) Flower Powder*.

*organic ingredient
Share
View full details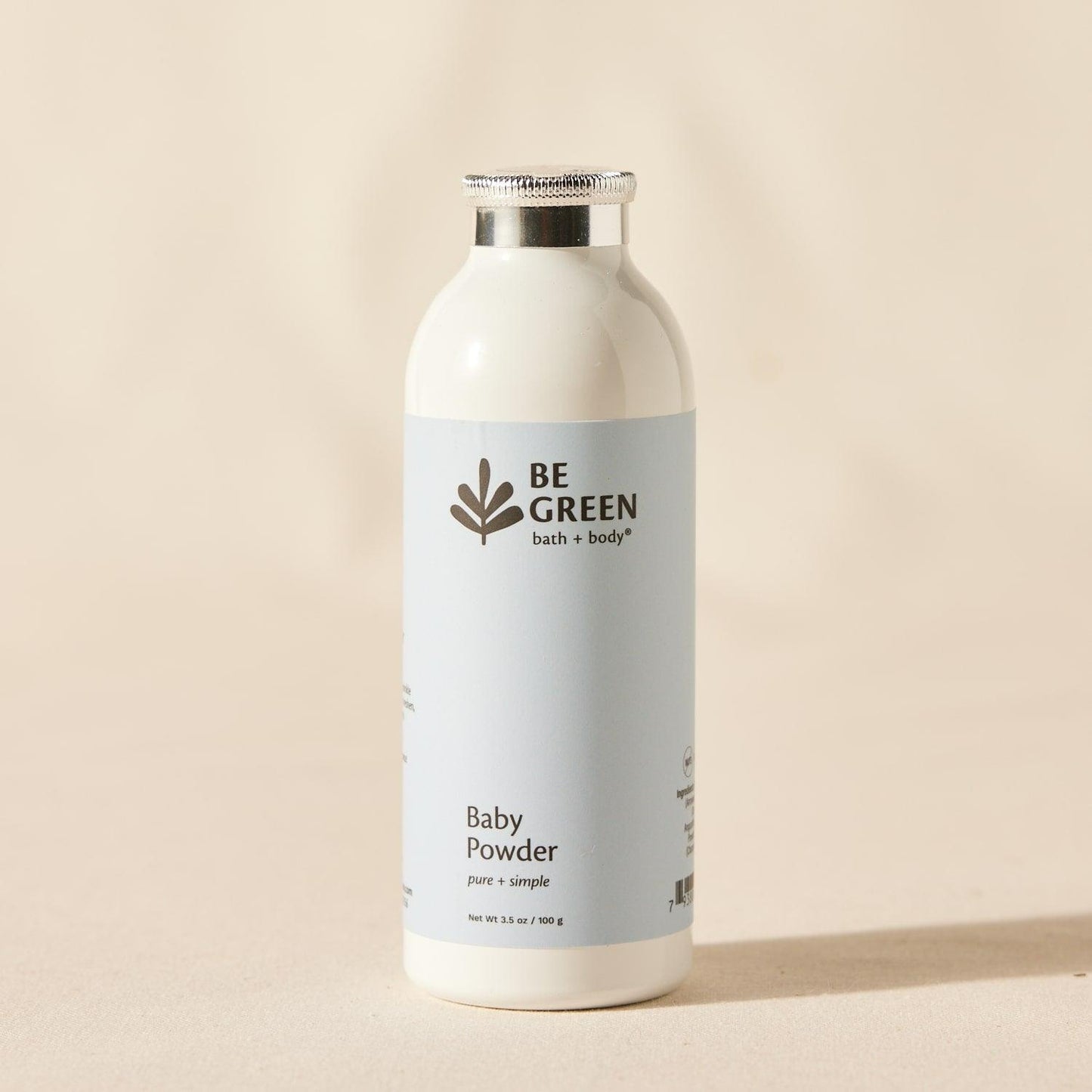 Far Better Than Expected
I found this powder on the Environmental Working Group website; EWG is a group I trust. This baby powder had their highest rating. So, I used the link to the Be Green website and was convinced it was what I wanted. My original order was lost by the postal service; Karen was so gracious and reshipped it right away. Not only is the product exceptional and safe, the person who makes it is a woman of integrity and action. And, the container is refillable, too. I recommend it, most definitely.
Thank you for your review! We're glad to hear that you're happy with the product and that it exceeded your expectations. We're also glad to hear that you trust the Environmental Working Group. I'm glad your reshipment arrived safely. USPS has lost or misdelivered so many orders and others get stolen. It is a problem for small businesses for sure but it is not our customer's fault so we will reship. Thank you for your patience.
Silky Baby Powder
I have used the body powder for several years and love it. This time I tried the baby powder and really like that too. This "big baby" loves the silky smooth feel on my bottom. Thanks for your amazing products!
Thank you for your feedback! We're glad you like our baby powder as well as the body powder. We appreciate your support of our small business very much.
Love this soft, delicate powder!
I found Be Green Bath and Body while looking for a natural powder that had a reusable container. I just love this powder! It has a nice, natural lavender fragrance and feels so soft on my skin. The bonus for me was, in finding this product, I found so many other wonderful Be Green Bath and Body products that I just love! I am so happy to have found this wonderful company with such wonderful products. I love all the products I have purchased and will be excited to buy more and try new ones in the future!
Thank you for your kind review! We're so glad you love our powder and appreciate the natural lavender fragrance. We're excited to offer our customers such wonderful products that make their lives easier and more enjoyable. Thank you for supporting Be Green Bath and Body!
Excellent Product
Thanks to the Environmental Working Group database on healthy personal care products, I found your "Baby" powder for use on my adult skin and took a chance. It is excellent! Spreads on the skin easily and no clumping at all. Since I am allergic to fragrances, I thought I had ordered the fragrance-free version but I received the version with fragrance. Fortunately for me, the fragrance level is so low that that it doesn't bother me. Hope that doesn't turn off fragrance lovers because this is an excellent non-toxic product. And I really love that I can reuse the container. Thanks!
Thanks so much for your review of our Baby Powder. I'm so happy you found us on EWG and that it is working well for you. Just to let you know, we only have 1 version of the Baby Powder and there are no added fragrances. It does have ground organic lavender flowers and chamomile herb but no essential oils or fragrance oils.
Pretty good
Trying to go clean, and this product does the job, but of course not a good as the 'unclean' talc powders. Will continue to use.
Thank you for your review of the Powder. I'm glad it is working well enough for you. It is definitely better for your health than talc and I wish you loved it as much as a conventional product.