Regular price
Sale price
$22.00 USD
Unit price
per
Sale
Sold out
Wash your hair less often!  Our benzene-free, non-toxic, non-aerosol Dry Shampoo is great to use between regular hair washings.  The natural ingredients absorb hair and scalp oils so your hair remains fresh and you can go longer between regular shampooing.  This means less harsh detergents to strip your hairs natural oils and less heat styling to damage your hair.  

This powdered formula is propane-free, benzene-free, butane-free and isopropyl myristate-free.  It is acne safe and color safe.
Refills now available!   Refill our shaker bottle.  Save money and save the environment by reusing your powder shaker bottle!  The refill is sold in a home compostable pouch!  To refill, see "How to Use" tab below.  To order, click on "Style" above and select "Refill Pouch".  Watch a video on how to remove the cap to refill your bottle with captions.
Rice starch, a very fine powder, absorbs scalp oil without weighing down the hair.  It's small particle size helps reduce the white cast that often happens when those with dark hair use dry shampoo. 
Arrowroot powder and kaolin clay absorb oils from hair and scalp and add volume.
Will not cause damage to hair or scalp.
Great for travel and camping trips where water is limited.
100% vegan, non-toxic, sulfate free, talc free.
4 oz powder shaker bottle or 4 oz compostable pouch refill.
Use within 18 months of purchase.
Key Ingredients

Kaolin: A mild white clay mined from the earth; mineral rich; excellent on the face as a gentle exfoliant; known for drawing toxins from skin; known for its absorbing properties; good for all skin types.

Organic Rice Starch: Absorbs excess hair oils; helps keep hair soft and smooth.

Organic Green Tea Powder: Rich in polyphenols; caffeine works to stimulate the hair follicles and increase circulation and blood flow to your scalp.

Organic Papaya Powder: Contains the enzymes papain, chymopapain, and vitamins C, A, and B9; rich in folic acid which stimulates blood flow to the hair follicles.
Who Is It For

Suitable for all hair types.
How To Use

Sprinkle a small amount into hand. Dip a clean makeup brush into the dry shampoo and brush onto scalp and along hairlines. Leave on for a few minutes then brush thoroughly. Use hair dryer to blow out any remaining product.

To refill your bottle: Use a dull knife to pop off the top of the plastic shakers. For the aluminum shakers, use your thumbs and push up the metal cap. You may need to push up and turn the bottle and push up again. Use a funnel or snip the refill packet corner and carefully pour contents into bottle.
View Full Ingredients List

Oryza Sativa (Rice) Starch*, Maranta Arundinacea (Arrowroot) Powder, Kaolin Clay, Lavandula Angustifolia (Lavender) Flower Powder*, Camellia Sinensis (Green Tea) Leaf Powder*, Carica Papaya (Papaya) Fruit Powder*. *organic ingredient
Share
View full details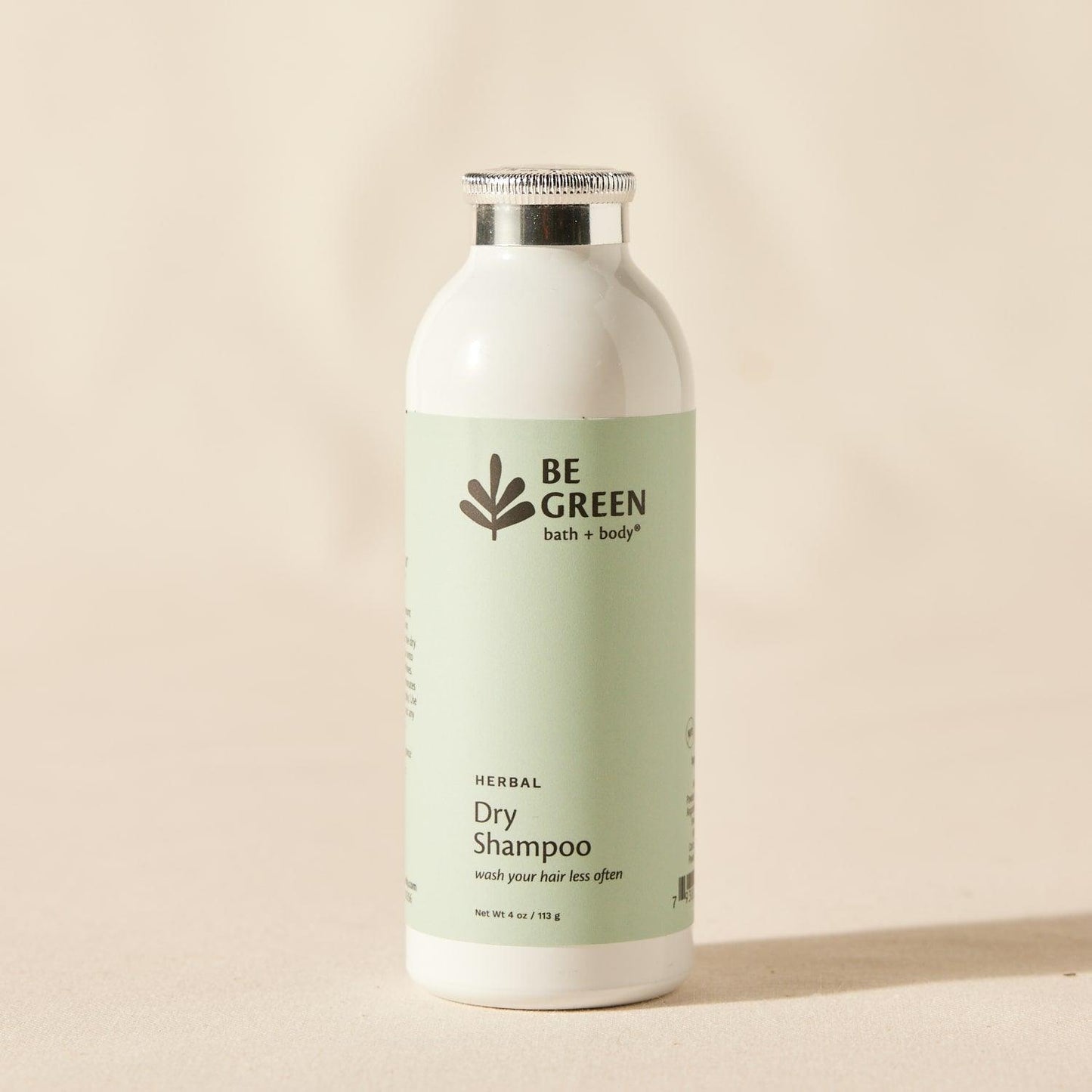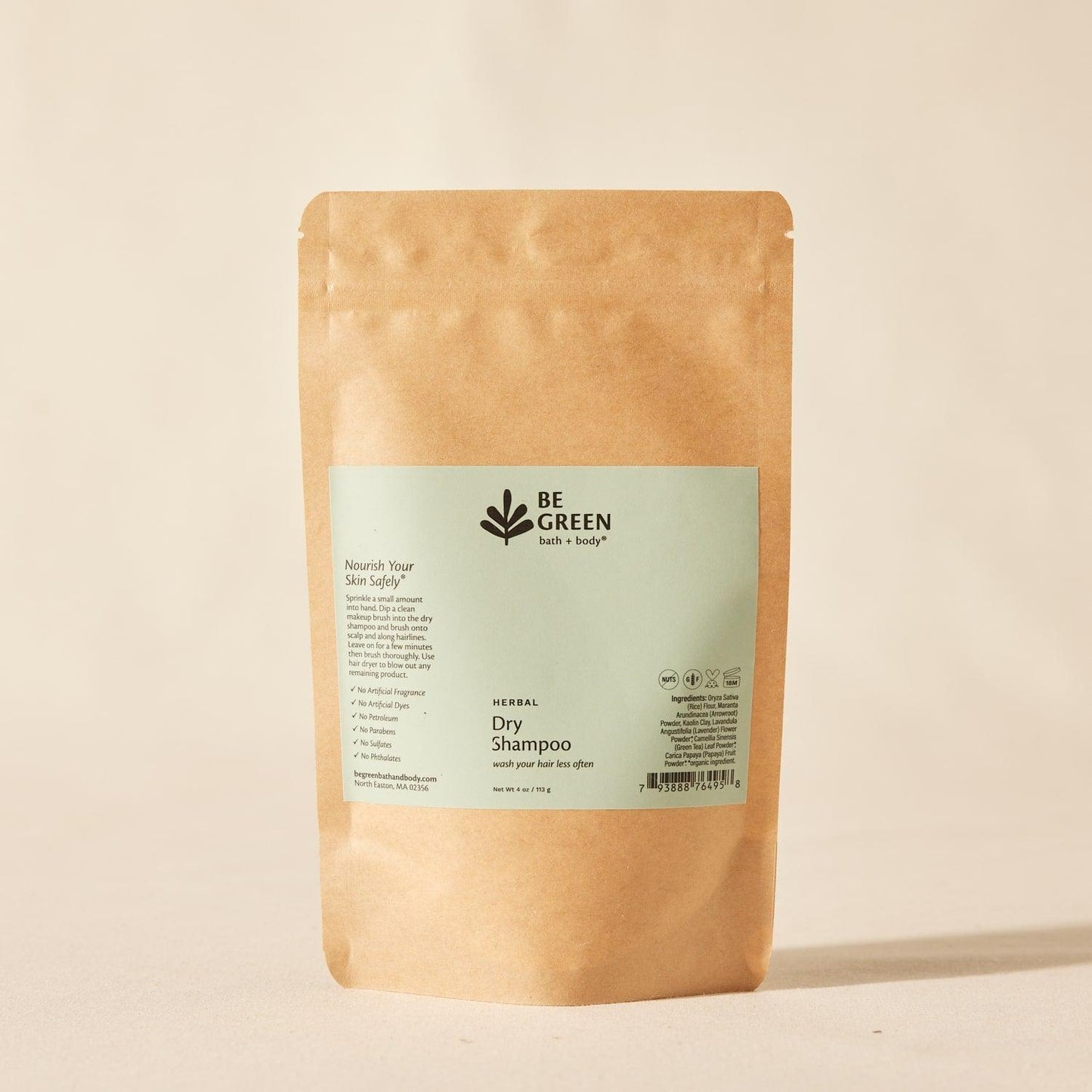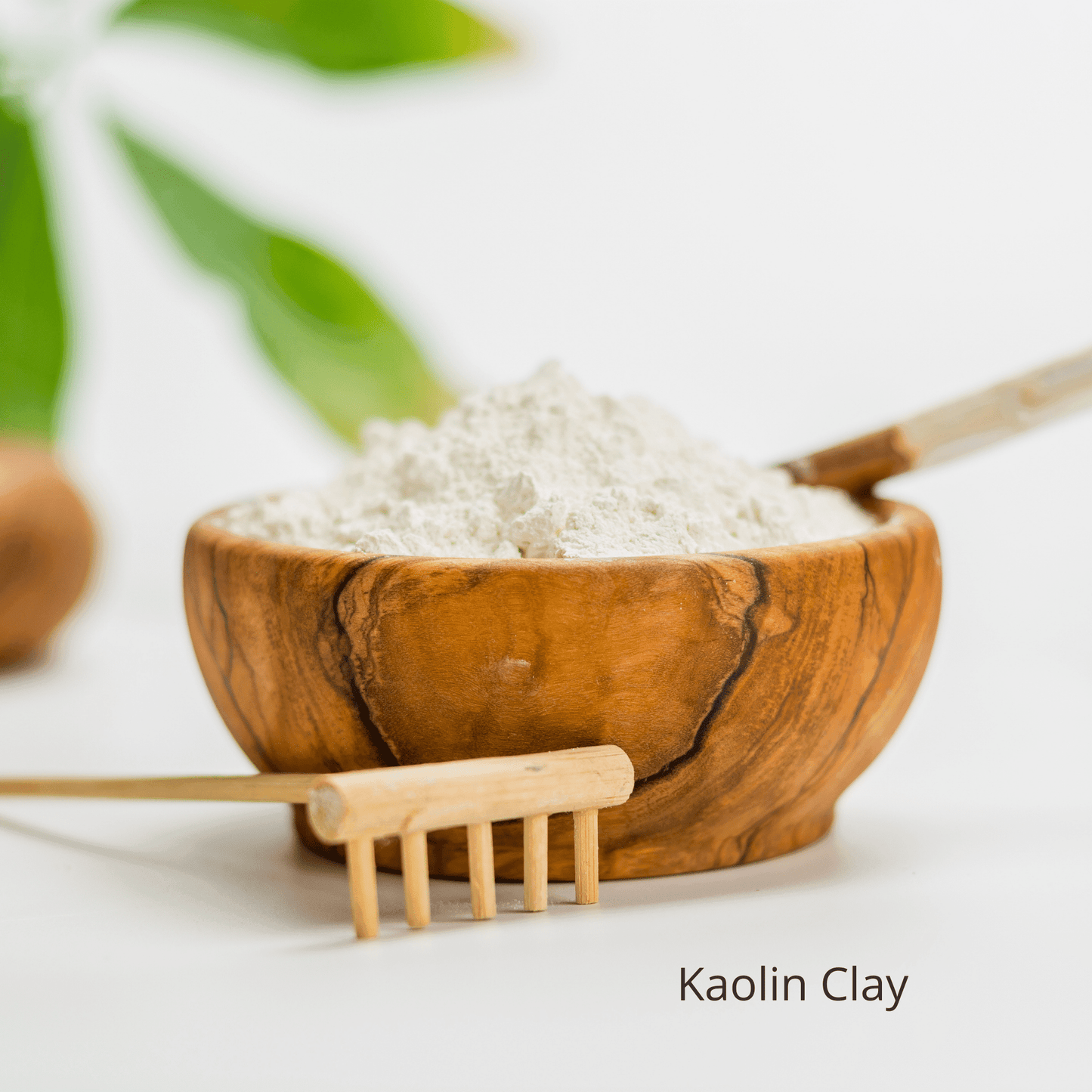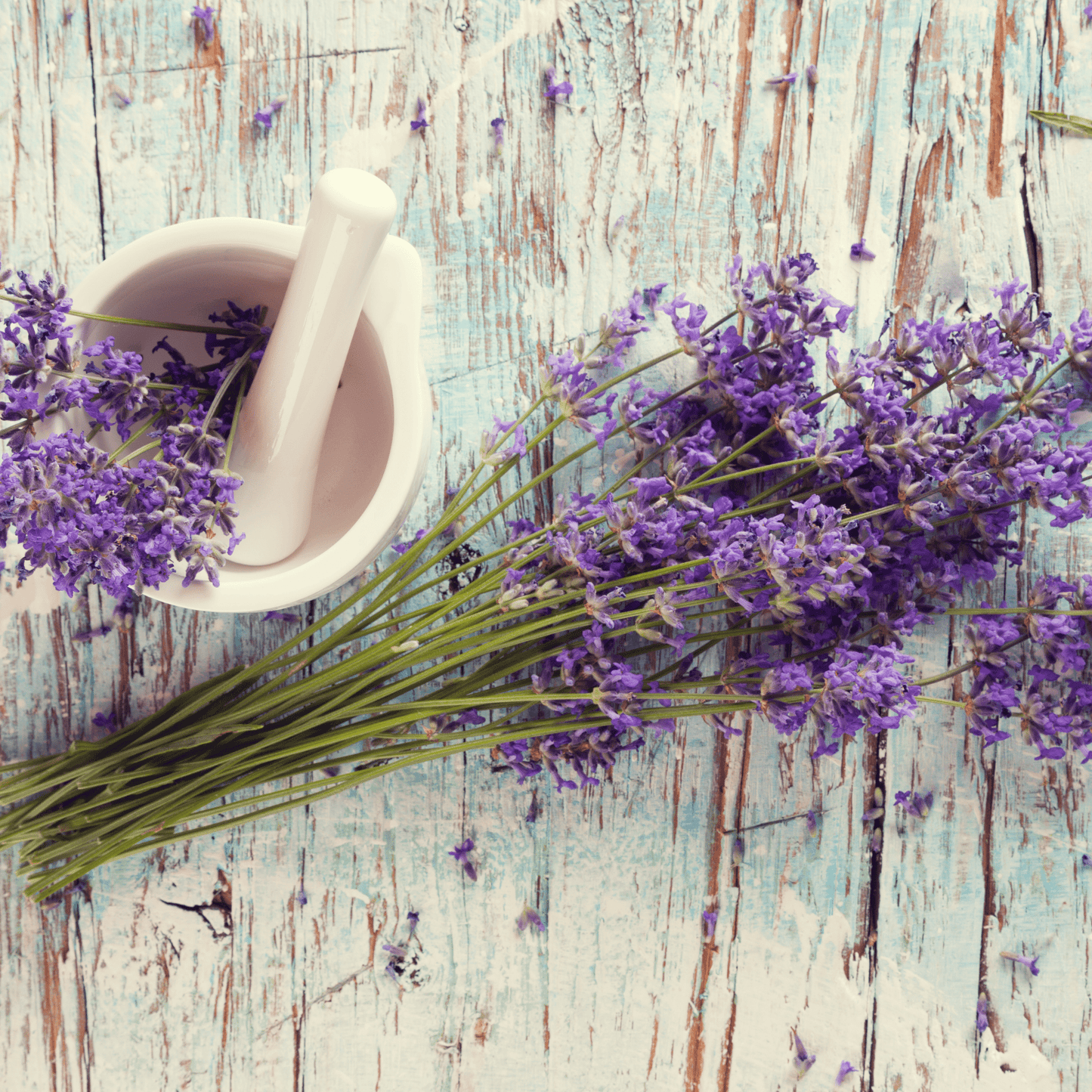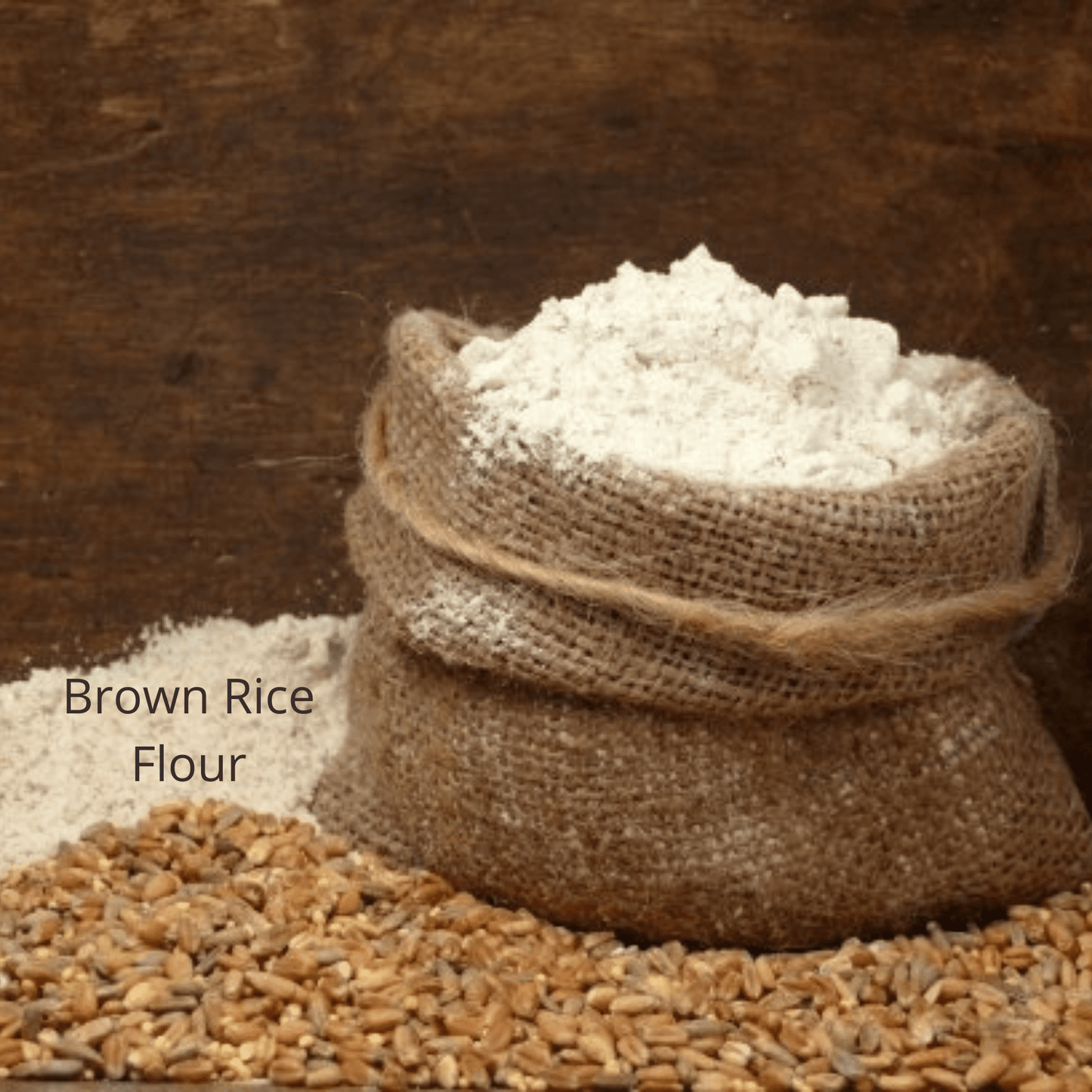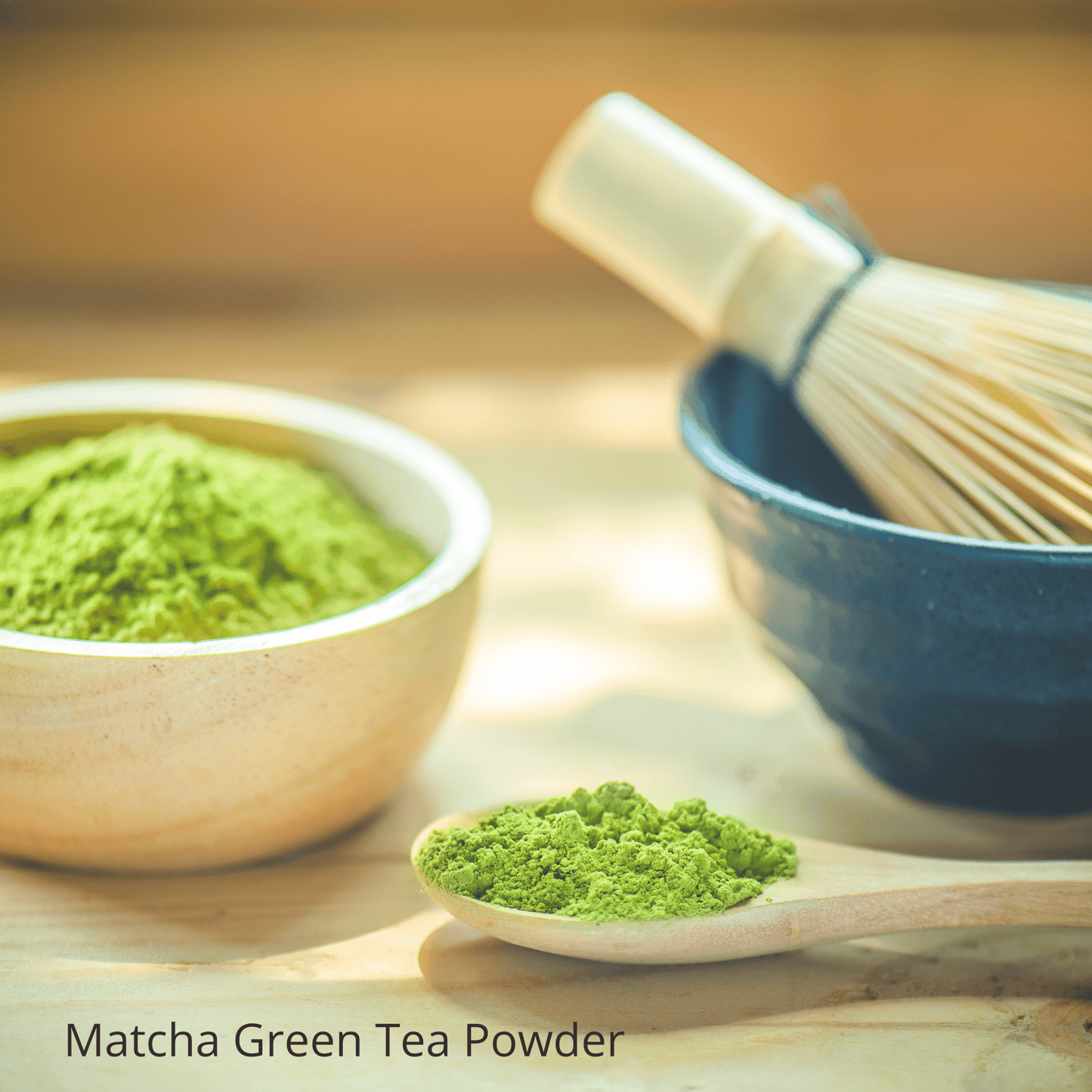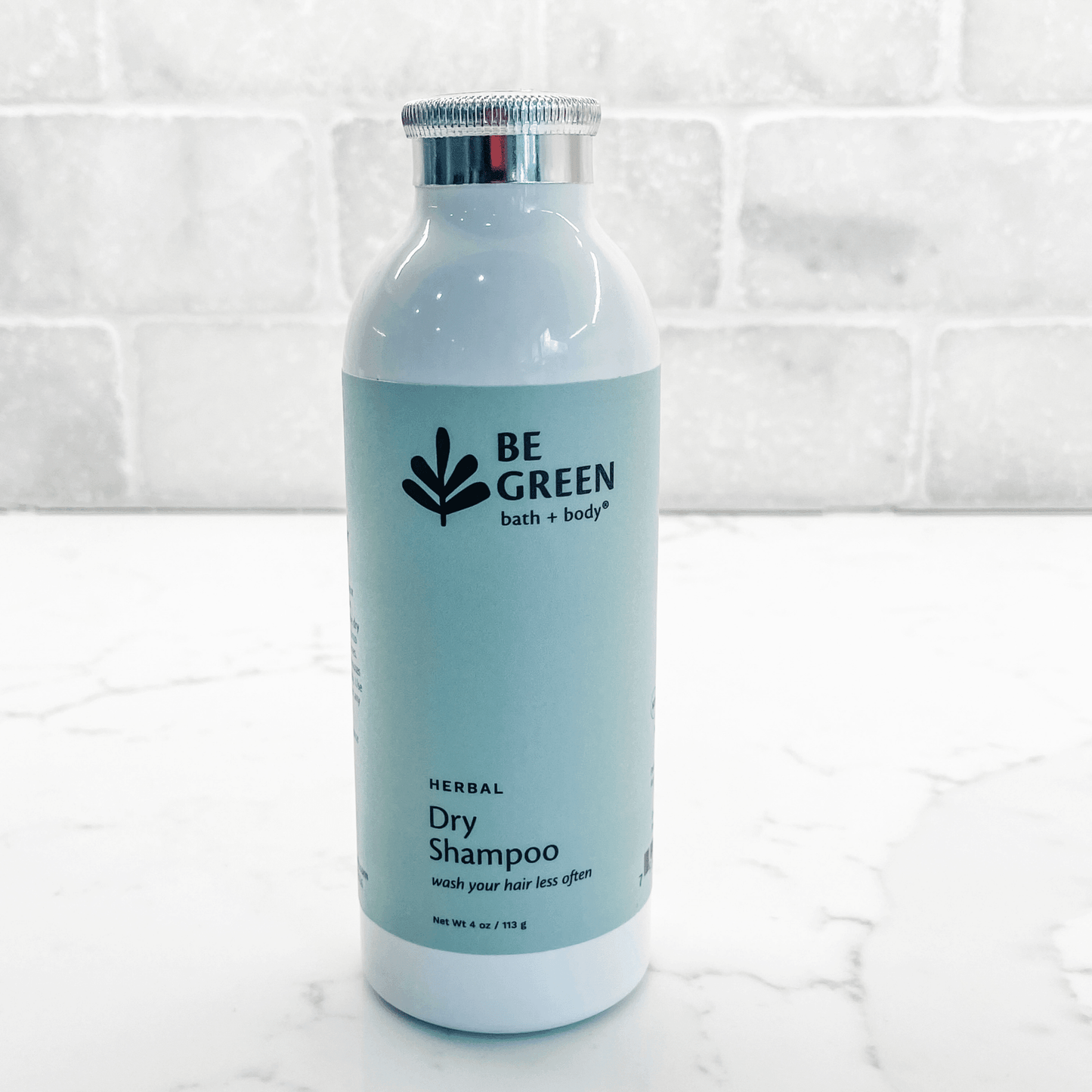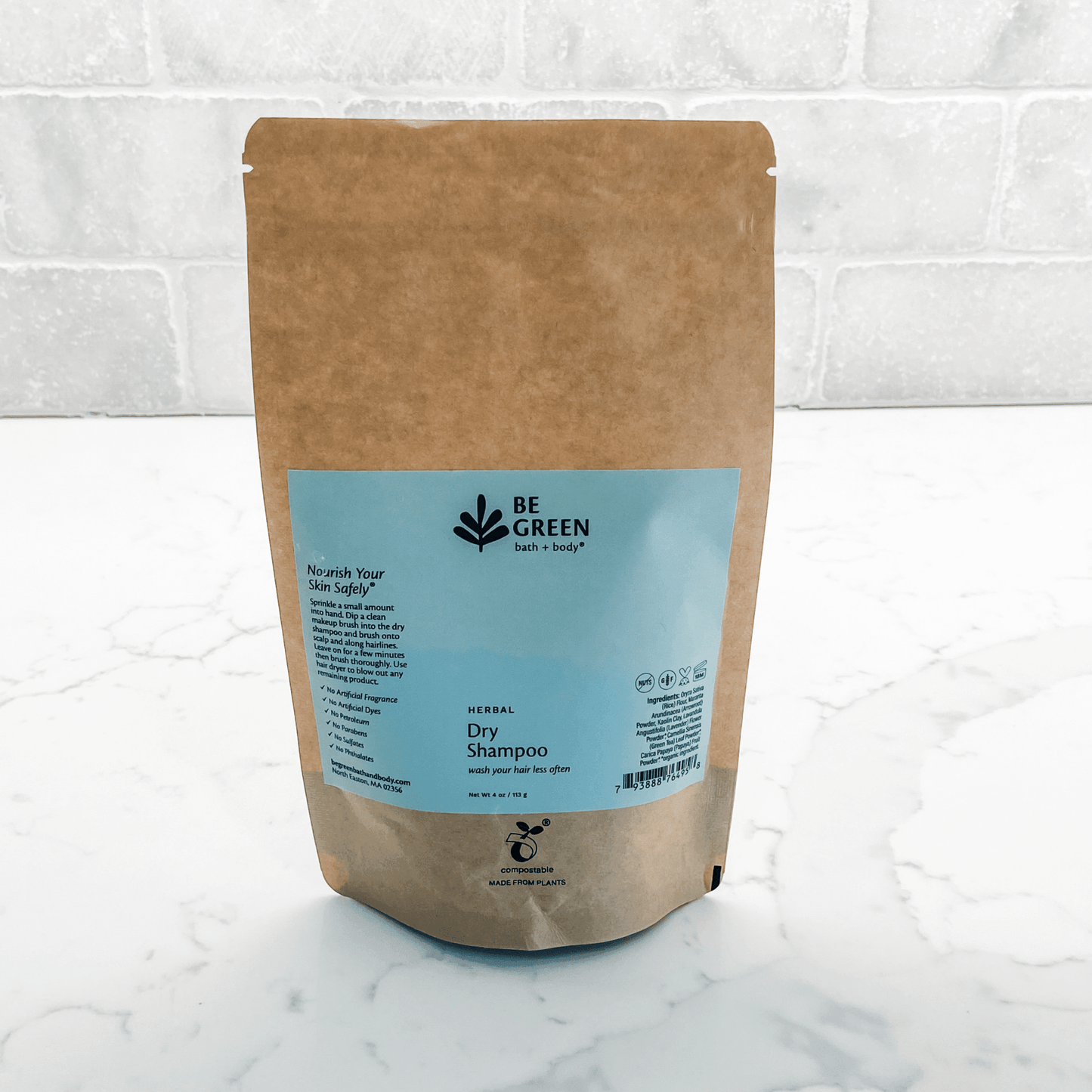 Doesn't leave residue
Some dry shampoos that I've used in the past will leave a white residue overtime. So far, this dry shampoo has not, and I use it a couple of times each week. The perfect small amount does the trick. I'm happy with this product and will buy it again!
Thank you for the review. We're glad to hear that our dry shampoo isn't leaving residue and works well for you. Thank you for supporting our small business.
Clean ingredients!
I ditched my old dry shampoo with questionable ingredients for this clean dry shampoo and I love it! I found this brand on the ewg.org website as the cleanest dry shampoo available and I had to have it!
Thank you for your review! We're glad to hear that you love our dry shampoo and appreciate the clean ingredients. Thanks for making the switch and finding us on EWG.
The best dry shampoo
I have tried other dry shampoos and this one is the best. I also like the fact that there are no harsh chemicals in these products - Be Green. I have fine color treated hair. Sometimes I even put it in my freshly washed and dried hair. It makes my hair look thicker.
Thank you for your review! We're glad to hear that our Dry Shampoo is the best one you've tried and that you appreciate it doesn't contain harsh chemicals.. So happy that it helps make fine hair look thicker.
LOVE!
Highly recommend! So good and works!
Thank you for the great review! We're so glad you love our dry shampoo and it works well for you.
Love!
Wonderful dry shampoo. I'm used to the spray on kind so it is different applying with a makeup brush, but honestly I think it provides better coverage than a spray on. I often get compliments more using the dry shampoo than when I wash my hair! Also my husband loves the smell.
Thanks for the great review! We're glad you're enjoying our dry shampoo and the coverage is really good. I know it can be a big change switching from a spray and I'm thrilled that you're receiving compliments on your hair.